Okay, so I have two main accounts. I went through one of them (Username: 'thisspaceisblank') and dug out some items to make this list and you can contact me if you want to trade. Reply to this comment if you want one of the items. Write your username, what item you want, and what your offer is. Also, write what time you can go online (Pacific Standard Time). By the way, the list is very long because I literally wrote every single thing I have that has potential value. I also had one masterpiece stored on this account, so I attached that picture.
-Purple Rare Bow and Arrows
-Rare Steampunk Monacle
-Rare Hood With Feather
-Long Blue Neon Spiked Collar (Diamond Shop)
-Short Solid Gold Spiked Collar (Diamond Shop)
-Diamond Encrusted Gauntlets
-Purple Rare Pumpkin Mask
-Blue Rare Bunny Hat (2)
-Red/Green Rare Yeti Face
-Orange/Purple Rare Binoculars
-Yellow Rare Ladybug Hat
-Blue/Gold Rare Star Cape
-Pink Rare Candy Necklace (2)
-Pink Studded Collar (Diamond Shop)
-Purple Holiday Sweater
-Red Bow And Arrows
-Default Burger Hat
-Blue Studded Collar (Diamond Shop)
-Red Rare Glove
-Black Rare Glove
-Tannish/Greenish Sunglasses
-Red Worn Blanket
-Tealish Green Rare Bow And Arrows
-Blue Lollipop Necklace
-Orange Candy Cane Necklace
-Pink Leaf Necklace
-Orange Rare Fluffy Fox Head
- Silver Chain Necklace (2)
-Emerald Ring
-Black/Orange Rare Scary Cat Hat
-Teal/Blue/Purple Rare Wizard Hat
-Green Holiday Sweater
-Black Short Spiked Wristband (Diamond Shop)
-Light Blue Short Spiked Collar (Diamond Shop)
-Red Left Friendship Necklace
-Red Pirate Sword
-Rare Arctic Hood
-Coral Moon Necklace
-Blue/Yellow Rare Star Hat
-Pink Umbrella Hat
-Black Pigtails
-Default Shark Hat
-Dark Purple Shark Fin
-Red Slingshot
-Pink Purse
-Silver/Red Heart Bracelet
-Pink Raccoon Tail
-Green Rare Glove
-Yellowish Rare Stegosaurus Tail
-Pink Rare Sun Hat
-Pink Rare Stegosaurus Tail
-A Green/White Pet Joey With A Hat, Boots, And A Little Praying Mantis Following It
-A Red/Black Pet Rooster That Has Black Polka Dots
-Purple/White Candy Cane Horns
-Golden Egg (2)
-Red Painted Pot (2)
-Howl Plaque
-Tiki Chair (Bamboo) (2)
-Tiny Shelf (2)
-Picket Fence (2)
-Lunar Footprints
-Labyrinth Treasure Chest
-Leaf Fan
-Blue/White Daisy Wall Art
-Purple/Pink/Blue Butterfly Wall Art
-Paradise Throne
-Greely's Blackboard
-Mailbox (3)
-Polluted Graham Statue
-Watermelons
-Red/Black Shark Cage
-Red/White Star Rug
-Snow Cloud (2)
-Stack of Books
-Fruit Bowl
-Umbrella Holder (2)
-Backwards Facing Tiki Chair (Wood) (3)
-Forwards Facing Tiki Chair (Wood) (3)
-Red Pottery Shards
-Desk And Chair
-Yellow Heavy Phantom Statue
-Football
-Bamboo
-Baby Palm Tree (2)
-Wood Lawn Chair (2)
-Purple Spiral Lamp
-Cactus
-Pogo Stick
-Giant Raccoon Plushie (traded away)
-Purple/Red Bird Feeder
-Brown Arm Chair
-Blue Teacup (2)
-Wood Crates
-Blue/Orange Pirate Chest
-Green Painted Pot
-Daffodil Flower Bed
-Imprisoned Phantoms (blue lightning + square jail cell)
-Tennis Rackets
-Large Freedom Kitty (it's a plushie from the summer carnival)
-Pink Star Pillow (2)
-Black Pet Sugar Glider Plushie (formerly sold at the Summer Carnival)
-Orange/Yellow Rectangular Coffee Table
-Artist Plaque
-Wood And Silver Corner Table
-Pi Pie
-Pink Clover Pinwheel
-Hippo Fountain
-Yellow Star Pillow
-Croquet Set (2)
-Red Pi Rug
-Owl Messenger Statue
-Red/Gold Phantom Mat
-Wall Garden
-Wooden Toy Box
-Phantom Archway
-3rd Birthday Cake
-Arm Chair
-Black Pi Rug
-Painter's Easel
-Large Globe (3)
-Graded Papers (4)
-Lucky Table
-X Marks The Spot
-School Desk
-Maple Leaf Lamp
-Ocean Treasure Chest
-Spyglass
-Yellow Octopus Plushie
-Rare Table With Orb
-Green Lawn Chair
-5th Birthday Cake (2)
-Ice Mira Statue
-Large Trunk
-Sir Gilbert's Banner (2)
-Computer
-RC Car
-Graham's Welcome Mat
-Sir Gilbert's Lamp
-Golden Throne
-Rare Stone Chair
-Dusty Scattered Books (5)
-Paper Grocery Bag
-Paper Grocery Bag With Handles
-Green Reusable Grocery Bag
-Plastic Grocery Bag
-Graham's Lamp
-Blue Paw Rug
-Moon Lamp
-Paradise Throne
-Reindeer Wall Art
-Paint Splotch Lawn Chair
-Snow Dresser
-Phantom Ornament
-Pet Chair
-Cosmo's Hammock
-Black Rare Frog Wall Art
-Porthole Fish Tank
-Pufferfish Plushie
-Medieval Stained Glass Window
-Brown Wavy Bookshelf
-6th Birthday Cake
-Thin Pine Tree
-Mira Waterfall
-Masterpiece (shown below)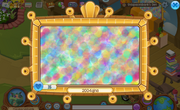 I know this was a very long list, and keep in mind this was only from ONE account... I may take a while to think about trades and reply because I'm more fond of some items than others (Heads Up: It's harder for me to accept trades with current pieces of my outfit because I don't like changing my outfit much at all... like on my main account, Dvg17, I've had the same outfit for 2-3 years now...). Also, I expect fair trades because you are literally browsing the Animal Jam Common Item Worth Wiki right now... emphasis on ITEM WORTH and WIKI. Thank you, jammers! Now if you don't mind, I' gonna take a little break because my wrists hurt a lot from all this typing...